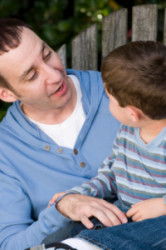 How To Be The Parent You Always Wanted To Be, was released October, 2013.
If you remember How To Talk So Kids Will Listen & Listen So Kids Will Talk, by Adele Faber and Elaine Mazlish, you will be delighted to know that  the authors of this treasure have finally produced as a CD their classic audiotape,  How To Be The Parent You Always Wanted To Be. As described on http://fabermazlish.com:
Finally! The long awaited, new edition of this essential guide for Moms and Dads who are looking for the most effective and respectful ways to connect with their kids is now available.

This updated, compact book and CD is uniquely designed for busy parents on the go.  It will empower you not only to refresh your skills, but also to share them with the key people in your children's lives – grandparents, nannies, babysitters and, of course, husbands, wives or partners who haven't attended the group workshops.

How To Be The Parent You Always Wanted To Be features fresh stories, cartoon illustrations, answers to commonly asked questions, exercises designed to sharpen your parenting skills, and audio dramatizations that demonstrate the skills in action. It addresses struggles parents face every day, in a popular culture saturated with sarcasm, put-downs, preaching, threats, name-calling, and accusations.  Loaded with practical wisdom and proven methods, this new multi-media edition demonstrates simple, proven skills that make relationships with children of all ages less stressful and more rewarding.

Even if you never participated in a Faber/Mazlish workshop or read any of their award-winning books, you'll strengthen your ability to:

deal with your children's strong emotions
set firm limits and still maintain good will
express your angry feelings without being hurtful
engage your children's cooperation
resolve family conflicts peacefully

Trade Paperback; 5 1/2″ X 8 3/8″; 112 pages with cartoon illustrations and a 68 minute CD.